We do things a bit differently, and that's the way we like it!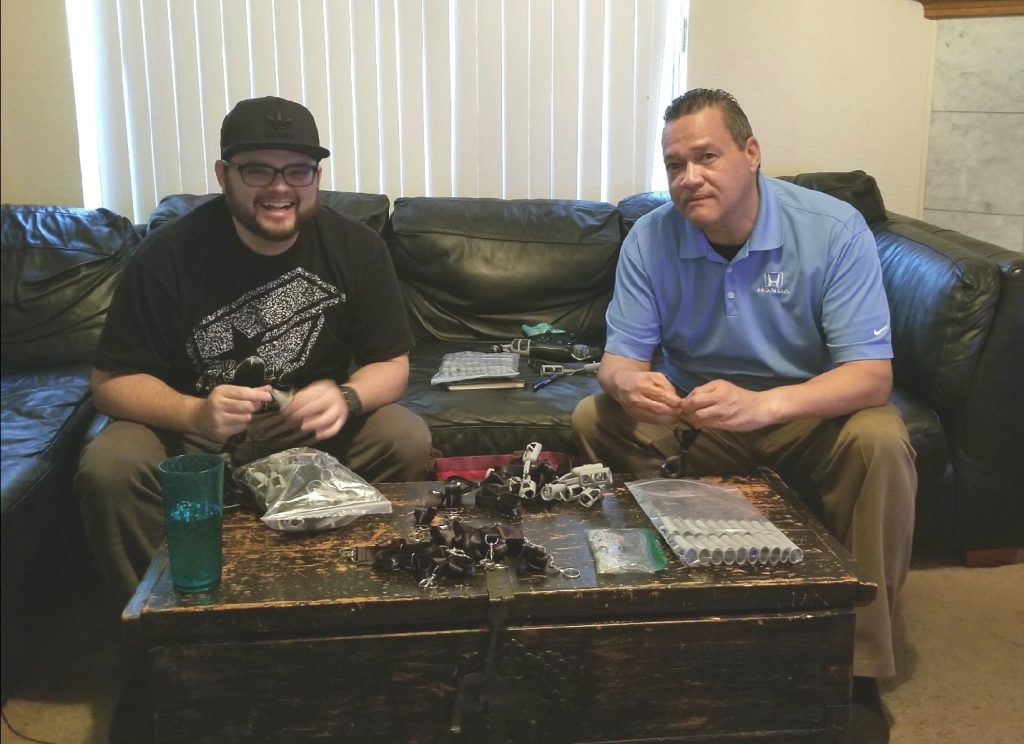 That's us on the first day we received our initial shipment of Remote Ranglers and started assembling them. I'm Joe the one on the left and my partner Troy, is on the right. He just got out of work at Honda. Just a couple of regular guys with high hopes and BIG DREAMS.
It all started with the fact that I have way too many remotes to keep track of. I kid you not, I have 8 remotes in just my bedroom! It seems that the more technology we get, the more remotes we have to operate them. Here's a list of my many remotes: TV, Soundbar, Firestick, light switch, air-conditioner, aroma diffuser and 2 fan remotes, one for me and one for my girl, because she doesn't like it too cold. I use these remotes everyday and keeping track of each one became such a major headache. They were either in the sheets, under the pillows, under the bed or under me, sucked in by my gravitational pull (as my girlfriend puts it.) I had to do something, and thus the Remote Rangler was born! Well the very rough version of it at least, but it really made a huge difference by being able to hang them up on my headboard. They are always nearby and ALWAYS together. I know I'm not the only one with this problem, people have been losing remotes since they were invented. I realized I couldn't live without it. That's when I knew other people needed this product too. So, out of necessity I created the Remote Rangler! My buddy & coworker Troy was one of my first customers. He loved it so much, that he offered to help me launch it, as his previous job experience related to our business well, and we became partners. Now, we are trying to spread the message, TIRED OF LOSING YOUR REMOTES? NOW THERE'S HOPE!